Featured Products
Welcome to Viking Loom
OPEN MONDAY - SATURDAY 10.00 a.m - 4.00 p.m.
TELEPHONE 01904 620587
Now located on the outskirts of York. Plenty of FREE onsite parking available.
Having been in the crafting business for 3 decades, we pride ourselves in being a family run business that cares about its customers. We have a room for quilting , one for needlework and one for beads
. We want you to find a place for handicrafts in your lives and hope to inspire you be it online or in the shop.
We source first quality beads from Europe and create our own range of exclusive signature mixes which work really well in jewellery and are great for embellishment. Our complimenting range of smaller beads and crystals are the perfect way to add sparkle to your knitting and sewing projects. Our beads are supported by a fantastic range of well tried and tested clasps, wires, threads and tools.
We offer a massive range of cotton fabrics for quilting, a few of which are available to buy online but we do recommend that you make us a destination and give yourself plenty of time to browse .we love moda, benertex, painters palette ,tilda ...to name but a few of the ranges we choose from .
We stock linen, aida and canvas for embroidery, cross stitch and tapestry in as many colours as we can find. Our range of stranded DMC threads are supported by cotton perle, variegated threads, madeira silks and dmcsatin s. We sell beginner kits in all sort of style to encourage a new generation of stitchers plus silk gauze, linen twill and wool flannel for the more adventurous stitcher. We have an everchanging stock of needlework kit and threads.
We offer a 'sourcing' service as we know that certain things can be tricky to track down if you don't know where to look. If you are searching for something elusive, get in touch because we can probably help. You never know until you ask and we love a challenge. We offer a worldwide postal service and so don't be put off by your location in relation to us here in York.
We are open on sat and sun next week for york open residents weekend when we shall be featuring our classes and the dark self embroidery project which everyone can get involved with ... . we are exhibiting with the kilham quilters april 29,30and may 1 st .
- if you want to join our newsletter mailing list, you can sign up here
Blog
sunday 29th january -one off sunday opening 11-3pm
Its open weekend for york residents at lots of york attractions and we are open as usual sat 10-4pm plus on sunday 11-3pm . come and join us . sit and sew projects in embroidery , beading and tapes...(Read Full Story)
Added on 29th January 2017
EMBROIDER A PILLOWCASE FOR ART INSTALLATION IN YORK SUMMER 2017
What an idea - what an opportunity ! Susan aldworth who is the artist in residence at York university has put together this wonderful project and she would like you to join in . please come and col...(Read Full Story)
Added on 3rd January 2017
SUNDAY OPENING -ONE LAST TIME BEFORE CHRISTMAS
We are open sunday 18th december 11-4pm .so please come and join us for a cup of tea .
Added on 18th December 2016
EVENTS
PROJECT TO BE CONFIRMED WITH STUART HILLARD
We are having an issue with the online booking ...
Date: 17th Nov 2017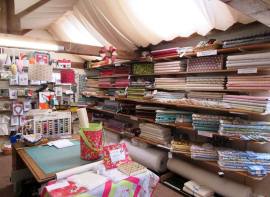 Tel. 01904 620587
---
SHOP OPENING HOURS
Monday to Saturday
10.00 a.m. until 4.00 p.m.
Closed Sundays & Bank Holidays BUT we are open next sunday 29th jan 11-3pm so come and while away the day with tea and biscuits and have a go at embroidery , beading ,tapestry .... £5 a project - all materials included .
Please click here for trade enquiries and accounts.